Roll Me Up Toronto Speciality
Our speciality of ice cream serves you with soft and sweet flavours of best thai rolled ice cream, ice cream cones and best waffles, which you can't hold back without eating. You would also love Roll Me Up Milkshakes and the delicious cheesecakes from The Cheesecake Factory Bakery.
Our expertise lies in the picking of the fresh ingredients with a variety of toppings executing unique flavors. The top specialities of our East York location are Paan King, Mint Chocolate Chip and Salty Sweet Caramel Rolled Ice Cream. You could not resist the Strawberry Cheesecakes Rolled Ice Cream and Mix Flavors Rolled Ice Cream freezed right with the fine consistency and softness.
Thinking of how to find the best ice cream place near me? Don't worry, Roll Me Up Ice Cream can help you have the best ice cream flavors and milkshakes, just so easily online, with a finger tap.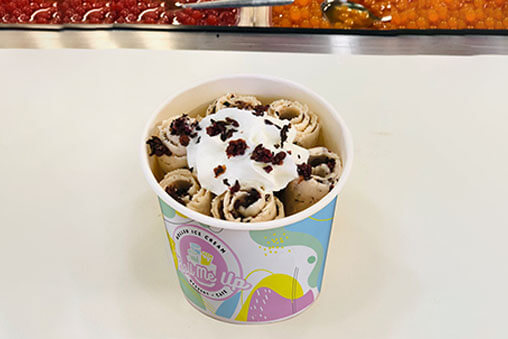 You will love our paan king rolled ice cream served with vanilla ice cream base. The mild flavor of vanilla fused with sweet paan masala will freshen up your soul. We are sure that you would love this ice cream combination for life.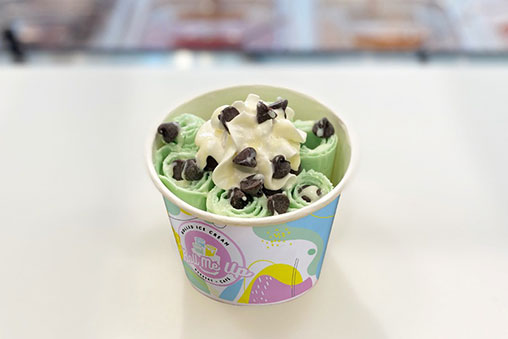 Our combination of mint and chocolate chip in rolled ice cream is so delicious that there is no chance for you to resist. The chocolate chip toppings over the ice cream are just on point combined with its minty flavor.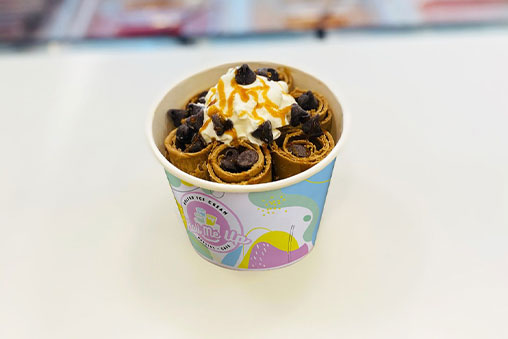 Salty Sweet Caramel Ice Cream Rolls are prepared with Caramel ice cream base, whipped cream, and caramel sauce which is loved by our customers. Enjoy every bite of it as it gives a fresh feeling by melting in your mouth.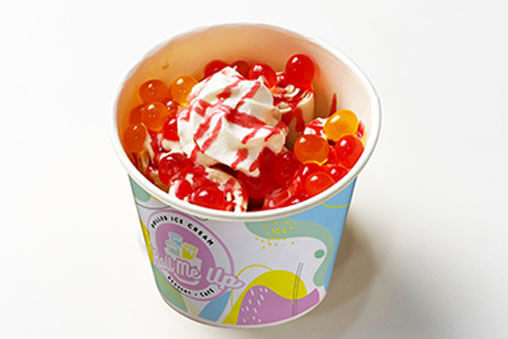 Who doesn't like to have a cup full of Strawberry Cheesecake Ice cream topped with strawberry sauce and served with delicious white whipped cream. This is how a fulfilling sweet treat serves and looks like, on the whole. Only a little bite of it is enough to satisfy its cravings with its chilly, frozen feels.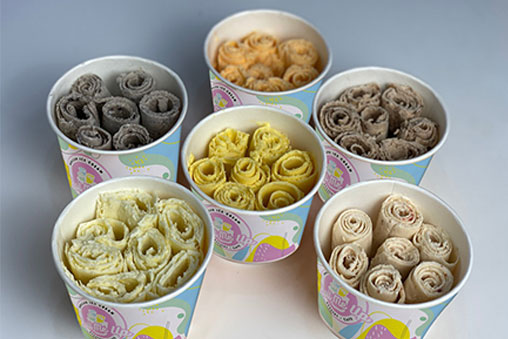 Scoop through Seven mix flavors of roll ice cream that includes Mango Banana, Mango Strawberry, Strawberry Banana, Banana & Nutella, Pina Colada, Chocolate Peanut Butter Banana and Peanut Butter & Jelly. Sounds yummy? You can also avail 2 FREE additional toppings. What are you waiting for? Visit us today!