10 Unique and Delicious Flavors of Thai Rolled Ice Cream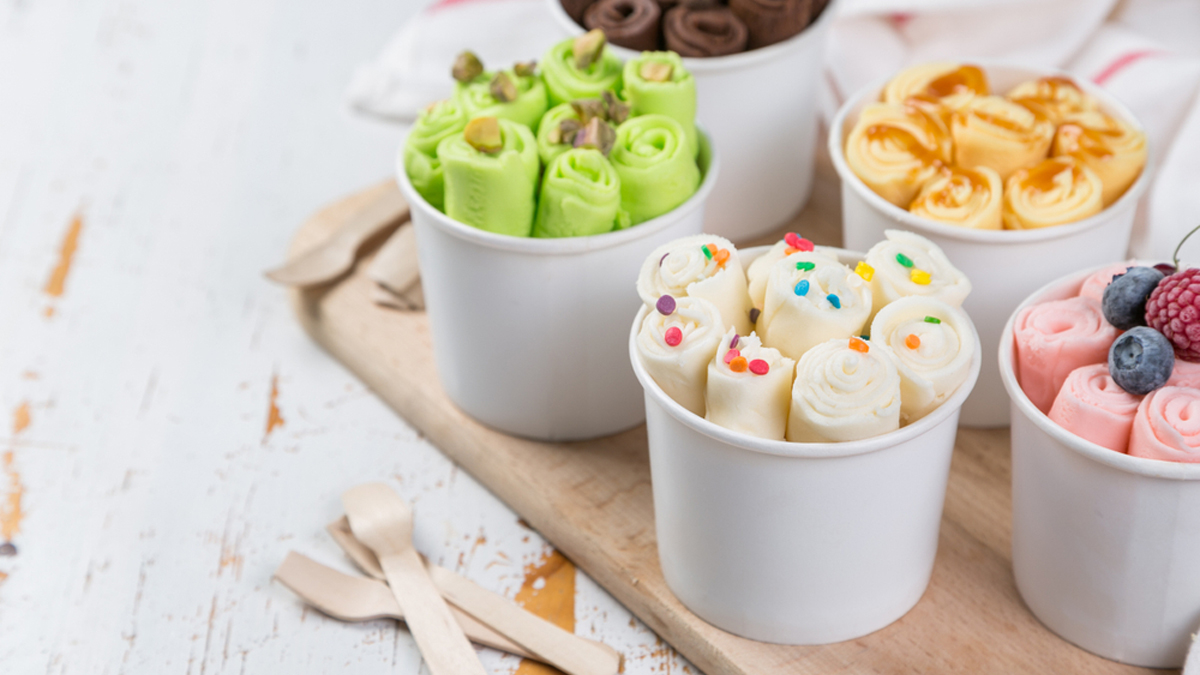 Introduction
Have you ever tried Thai rolled ice cream? If not, now is your chance to try it because thai rolled ice cream is hands down better than the regular and boring ice cream you get everywhere—wondering what is so great about this rolled ice cream? Well, everything is superb about it, the flavors, the toppings options, the process of making the ice cream, hence each and everything aspect of rolled ice cream is nothing but cool! 
As mentioned above, one of the coolest things about Thai rolled ice cream is its flavors of it. Trust me on this, any flavor you like, you can have it in your rolled ice cream. But where would you find the best rolled ice cream in town? We have an answer for that too. Have you tried desserts and ice cream from Roll Me Up ice cream and dessert? If not, that is where you can go and enjoy the world famous and, hands down, the best rolled ice cream. Here at Roll Me Up Ice Cream & Desserts, you will find not only the ultimately rolled ice cream but that too in varied flavors of your choice. And do you know the plus point? Well, you can choose your ice cream toppings as per your liking. A win win situation for ice cream lovers, for sure! 
If you are wondering what unique and delicious flavors you can incorporate into your rolled ice cream, here we have compiled a few options. Check our list below to find out some of the unique and delicious flavors in which thai rolled ice cream is readily available. 
The Basics 
Well, you know the basic flavors that you can try in your rolled ice cream. But do you know what are the basic ice cream flavors worth trying? The basic yet most delicious flavors include chocolate, vanilla, strawberry, mango, and coffee. These flavors might sound super basic, but are they any less delicious? Well, not! These classic flavors will make your day better, and the thing about these flavors is that you can always take the taste of these flavors up a notch by adding toppings, including marshmallows, syrups, sprinkles, and a lot more. This will make your rolled ice cream even more delicious and worth every penny. 
Complicated, But The Best Ones. 
Have you tried ice cream flavors made with a combo of two different flavors? Cookie and creme are one of the favorite options that people love having. You can also try the dual flavored rolled ice cream options. Or how about you try the not-so-popular but unique flavors like Butter pecan, strawberry banana, and Chocolate chip? Most Ice cream shops also offer you to choose the flavors on your own. You can select from Nutella, peanut butter, caramel, and many other flavors. Do you know where you can get a huge variety of flavor options for thai rolled ice cream? Roll Me Up Ice Cream & Desserts is the right place for you if you plan to munch on the best ice cream options. 
Desi Flavors Are To Die For 
Are you a desi living abroad and craving a desi dessert? How about you try a gulab jamun flavored rolled ice cream with bits and pieces of this heavenly sweet ball? Well, not a lot of ice cream shops offer desi flavors, but you are in luck if you plan to visit Roll me up ice cream & desserts because not only do they offer other desi flavors, but make sure that the flavors are top notch without any fail. You can also try the pan flavored ice cream, which is also one of the greatest flavors that one can try. While you are there, remember to check all the other flavor options as well as the dessert options that are available there. The varied toppings will only make your ice cream taste a lot better, and the dessert options are for people who do not want to have rolled ice cream. They do not need to feel left out. There is a dessert option for everyone at Roll me up ice cream & desserts. 
A Quick Round Up Of  The Top 10 Popular Thai Ice Cream Flavors 
If you have not yet decided on the flavors for thai rolled ice cream, we have made it easier for you. Below we have given you a round of people's favorite flavors for thai rolled ice cream. Take a look if you are confused about picking the right flavor for your ice cream. Hop along as we uncover the top flavors that are a must try. 
Vanilla Ice cream – Simple, classic, loved by everyone 

Chocolate ice cream – The best of all times 

Strawberry ice cream – Sweet, tangy, and flavorful 

Cheesecake ice cream – A little bougie but delish 

Cookie and creme ice cream – The greatest of all times, hands down 

Paan flavored ice cream – An acquired taste 

Coffee ice cream – Strong taste but great flavor 

Chocolate fudge and brownie ice cream – A combination that is perfect everywhere 

Oreo and marshmallows – A combination that all kids love 

Gulab jaman flavored ice cream – A desi touch to a non desi dessert is what a perfect combo is! 
What Else To Try When You Are At Roll Me Up Ice Cream & Desserts? 
To list a few of the top things to try while you are Roll me up ice cream & desserts, check the list below. 
Delicious milkshakes with rich and fruity flavors are what you want to brighten up your day. 

Belgian waffle with heavenly chocolate syrups is to die for. 

Bubble-rolled waffles with ice cream make the best combo for sure. 

Lastly, cheesecakes from the Cheesecake factory are a must-try and are exclusively available at Roll Me Up Ice Cream & Desserts. 
Conclusion 
Our above article has all the information you need to find the best and the most popular thai rolled ice cream. So, if you are a confused individual and thinking about which ice cream goes well with your liking, the above article will be your savior in helping you pick and choose the Thai rolled ice cream flavor of your choice. Be it a simple classic ice cream option or a gourmet option, this article will cover it all. Did you find the best ice cream option that you want to try out? If yes, how about you head on to Roll Me Up Ice cream & Desserts now to enjoy the best of the freshly made rolled ice cream and a bunch of other flavors and dessert choices as well? So, what are you waiting for? Try your favorite unique thai flavors already!