A Brief Guide to Thai Rolled Ice Cream Rolls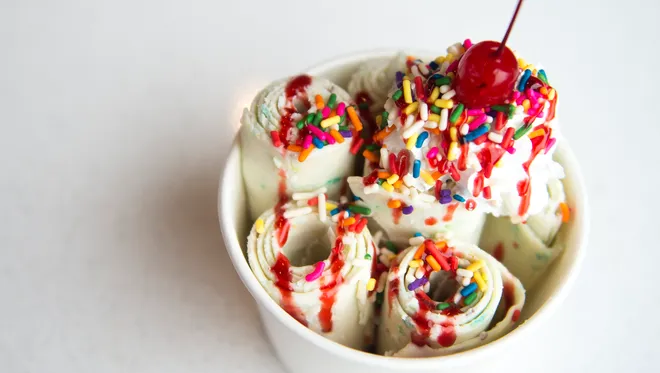 A rich and creamy ice cream mix rolled into beautifully rolled ice cream rolls with the toppings of your choice is a bite full of happiness! This Thai rolled ice cream batter is spread onto a metal pan that is cooled at -30 degree celsius. The batter is then scrapped into cigar rolls, making them look exquisite! One thing that is a must to know is that not all ice cream shops offer the best ice cream rolls. However, as satisfying as it is to watch the making of ice cream roll, you must know it is even more delicious to eat! 
View this post on Instagram
When looking for thai rolled ice cream, you must know that ice cream Pickering offers the best rolled ice cream that you will surely enjoy! Wondering which ice cream shop in Pickering can provide you with the rolled ice cream of your choice?  Roll Me Up Ice Cream & Dessert is hands down that best ice cream shop Pickering. So while looking for the best dessert options, Roll Me Up Ice Cream & Desserts is the best fix for you! 
A Little About Thai Rolled Ice Cream 
Thai Rolled Ice Cream, also known as the rolled ice cream, is ice cream (sweet and simple) that is a simple ice cream batter that is evenly flattened out on a large metal plate that is cooled up to – 30 degrees Celsius. This batter, once flattened out evenly onto the metal pan and this batter is then scrapped off slowly, ensuring the rolls are intact and in place, providing you with the perfect rolls that look tempting enough so you can dive in munch on them quickly! 
You can quickly look for the ice cream places near me who are providing you with the best rolled ice cream options that too with your favorite topping that will make the ice cream even cooler and more delicious. 
Have you tried Thai rolled ice cream yet? If not, now is the time that you head to Roll Me Up Ice Cream & Desserts, and there you can try the rolled ice cream or rolled ice cream with the toppings of your own choice. 
This can be the perfect treat that you can enjoy anytime that too at the best ice cream near me locations. But are you wondering where did the rolled ice cream originate from? If you are looking for a bit of history about rolled ice cream, here is all you need to know. 
The first time rolled ice cream introduced was in 2009 in Thailand, but its popularity grew a lot in just a little span of time. Now rolled ice cream is famous worldwide, and people in every corner of the world want to try and munch on it. 
Rolled ice cream also gained popularity over time after it went viral on the social media in 2010. This food sensation soon become the talk of the town and is now being sold at each and every part of the world. This sweet delicacy traveled all the way from Asia to USA and many other parts of the world. Wondering where can you find the best rolled ice cream with toppings of your choice? You are just a click away! Search for the ice cream shop near me, and you will have a list of all best ice cream places as per your preferences, and you can also read the reviews to find out which dessert place is the right one for you.  
Which Toppings Taste the Best With Thai Rolled Ice Cream?
There are plenty of toppings options available that you can choose from when you are having the rolled ice cream. The ice cream is available in several flavors, including mango, chocolate, vanilla, strawberry and a few premium flavors as well. And for toppings, you can choose from chocolate syrup and strawberry syrup, and you can also get fresh fruits as well. Moreover, you can get bobba as well. Adding sprinkles might also come as a great option, along with the plenty of other toppings. Have you tried the rolled ice cream already? If not, now is the time to try it and munch on it! 
View this post on Instagram
List of a Few of the Most Popular Toppings 
Fresh fruits 

Nuts that are crushed and sliced 

Candies and gummies 

Cereals or marshmallows 

Bobba, baked goods, chocolate chips, and cookies 

Crackers 

Syrups and sprinkles 
What is the Difference Between Traditional and Rolled Ice Cream? 
Considering there is no significant difference in taste between the rolled ice cream and the traditional ice cream but the thing about rolled ice cream is that you will not get it ready too. Instead, you will need to wait 3-5 minutes to have it ready, whereas the case is not the same for traditional ice cream that is ready to be scooped and served just as you place an order. 
One significant difference between the two is the preparation time, but the taste is no doubt similar to traditional ice cream. 
Where Can I Find the Best Thai Rolled Ice Cream? 
Are you already drooling for the rolled ice cream, and are you looking for where you can find the best ice cream in Pickering? Well, there are a lot of dessert places in Pickering offering you the best Thai rolled ice cream. You can check to Roll Me Up Ice Cream & Desserts, which offers the best of the rolled ice cream flavors along with several toppings and the flavors of your choice.