A Twist on the Classic: Unusual Bubble Rolled Waffle Flavors to Try in Toronto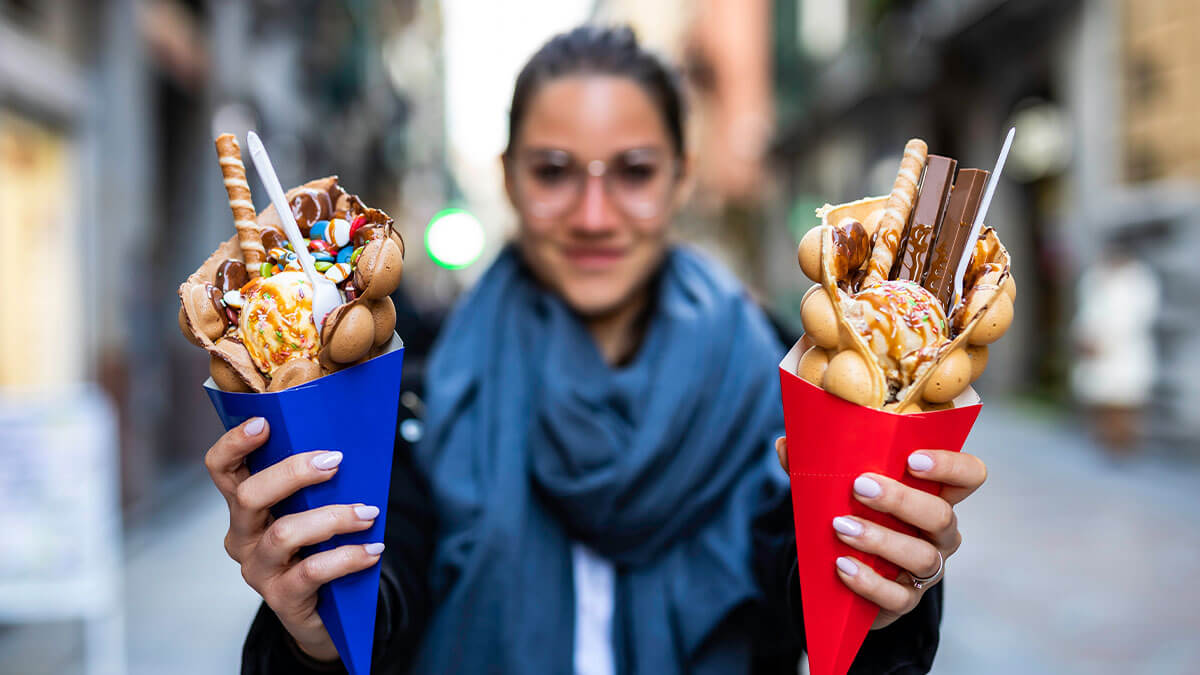 Is classic boring? Well, not exactly; it wouldn't hurt to try what's new and in-demand—ice cream. For example, has been the world's most famous and hands down the most favorite dessert of all time, but do you know ice cream has evolved over time in terms of flavors, toppings, and other condiments that can be used to pair up with the ice cream? You no longer have to get a cone or cup with ice cream; instead, you can try the world-famous bubble waffle ice cream with the tasteful options. The options are immense, and the choices are plentiful. All you need is to visit the best rolled ice cream shop and see where you can get the best bubble waffle that too with the ice cream of your own choice. You can always pair these bubble waffles with the classic ice creams of your choosing. It can be your perfect combo of classic ice cream with the newest invention of bubble rolled waffles. Get yourself a bubble waffle cone with your favorite ice cream, and you will know this is a match made in heaven. 
Why should you try bubble waffle ice cream? 
Well, if you are still double-minded about whether or not you should try bubble waffles with ice cream or not, let us help you find all the right reasons to do so. Dive into the list below to learn why you should try bubble waffle ice cream. 
The endless flavors heaven 
One good thing that makes these bubble waffles with ice cream worth a try is the amount of flavor options that you can opt for. Whether you love classic flavors or you enjoy fusion flavors, you can have them all with bubble waffles. The endless amount of flavors will make the bubble waffles worth trying. If you have not tried one yet, you are missing out! Wondering where can you get bubble rolled ice cream? If you are in Toronto, the best place to get your favorite bubble rolled ice cream with waffles is to visit Roll Me Up Ice Cream & Desserts, where you can not only have bubble waffles but also a lot more! You can get your hands on Thai rolled ice cream, or you can also try the world's famous cheesecake factory's cheesecake.  Now is the time to try these bubble waffles that too with flavor options that are worth trying. 
Ice cream for every season 
Whether it is summer or winter, you can have your ice cream craving satisfied at any time. And to do so, the best place to try out your favorite bubble waffle ice cream is to visit Roll Me Up Ice Cream & Dessert now and try out the varied variety of options. You can pick your desired dessert option from the available scrumptious flavors and dessert choices as per your liking and craving. You might wonder if ice cream is only great for summer, but you are not correct because the joy of having ice cream during winter is immense. If you have not tried it, now is the time to do so. When picking ice cream flavor at Roll Me Up Ice Cream & Desserts, you can choose from the simpler classic options, including chocolate, strawberry, vanilla, and other fruity flavors. Moreover, there are a few other options also available, including the fusion flavors and the mix of flavors. 
Ice cream will make all your sadness go away. 
Having a gloomy day and need something to lift your mood? Well, in that case, rolled ice cream will make your sadness go away. Whenever you feel that way, you can head on to Roll Me Up Ice Cream & Desserts, where you will find everything to lift your mood. This place, which is filled with joy, sweetness, love, and scrumptious desserts, will make you feel all the happiness that you need. In addition, bubble waffles will add an extra texture to your ice cream that makes the overall ice cream experience better and more soothing. So, for anyone who is going through a rough phase, ice cream might not make all the sadness go away, but it will for sure make it better. A little sweetness never hurts anyone; it will only make the tough time better and a little bearable as well. 
It goes with almost everything. 
Ice cream is that one dessert that can go pretty well with everything be it waffles, pancakes, or anything else. So, the good thing is that you can have your bubble waffles with ice cream. The combo it will make is not only super delicious but also the best of the best. So, now is the time to try out the bubble rolled waffles with the famous ice cream at Roll Me Up Ice cream & Desserts. So, whether you want rolled ice cream in a cup or a bubble waffle, you know, have it all the way you want. The delicious taste will satisfy your tastebuds at their best! 
Now that you know a few reasons why you should have bubble waffles, now is the right time to head on to Roll Me Up Ice cream & Desserts to grab your favorite desserts and ice cream combo of your choice. You can check the menu where you will find all the flavors, and to your surprise you will find not only the classic flavors but some of the most incredible combos, including s'more, paan, and gulab jaman flavors too. So whether there is a desi inside of your trying to look for classic desi desserts or you want the classic ice cream, Roll Me Up Ice Cream & Desserts has it all for you! So try now to enjoy and relish what you have been missing out on!