Bubble Rolled Waffles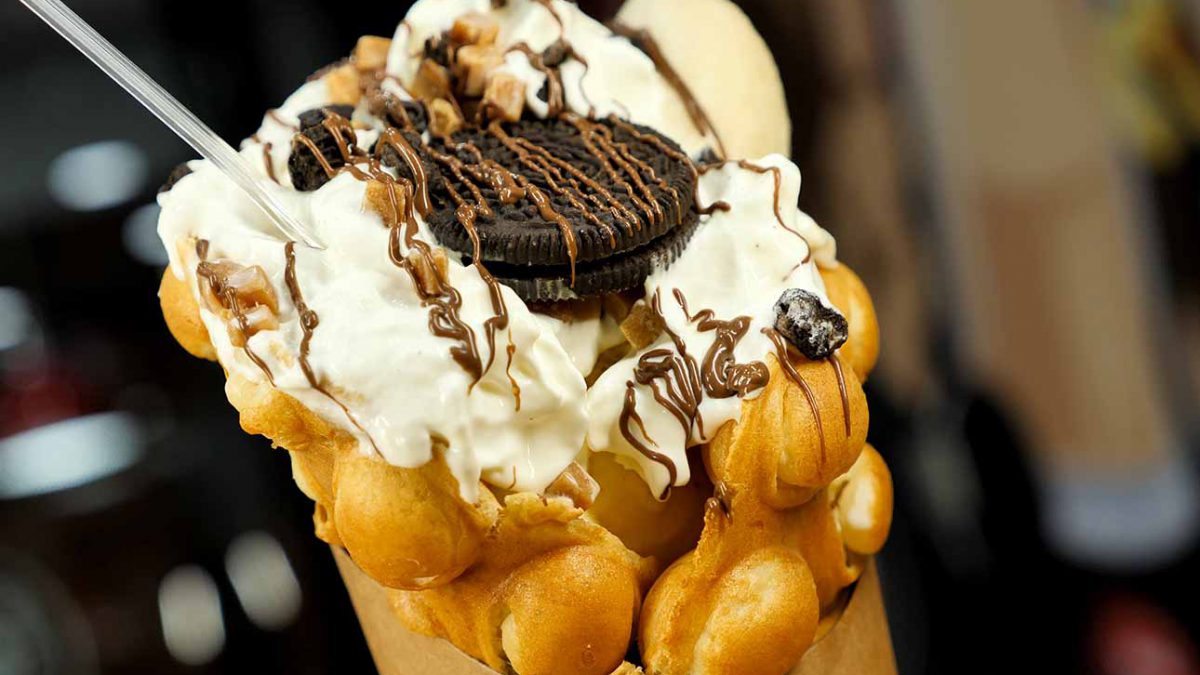 Bubble Waffles also known as egglettes or bubble waffle cone have become a hit on social media and in the west! This fun and delicious snack originated in Hong Kong. In the late 1990s bubble tea cafes that were unable to sell eggs to customers used left over eggs mixed with milk, flour and sugar to mix the batter for bubble waffles. Using a popular cast iron machine at that time the waffles came out with distinct circles which gave them the name bubble waffles.
Store owners started selling the snack and it was an instant hit! As the years moved on different fillings and flavors were added to the waffle and it made its way to the west.
We at Roll Me Up have made the commitment to serve the best tasting ice cream and hand made rolled ice cream in Toronto has ever tasted! We also offer delicious bubble rolled waffles. But what exactly are these and where do they come from? Below we'll discuss the history of the bubble waffles!
Twist
The beauty of the bubble waffle is its flexibility! The waffles can be filled with both savoury and sweet fillings. Check out these two delicious and unique ways to make a bubble waffle;
Bubble Rolled Ice cream Make the basic bubble waffle batter recipe. Once your waffle is fresh out of the pan, carefully form it into a cone shape. As it cools, it will crisp up and hold that shape. Fill it with your favorite ice cream flavor (or flavors—we're not here to judge!), add some toppings, and enjoy. It helps to put the waffle cone into a tall glass while you eat. In Hong Kong, you'll see the waffles served in small paper cones.
Bubble Filled Pizza? This one is a little ambitious! To make what might be the best personal pizza you'll ever eat, start by preparing this easy 5-Minute Dough recipe. Divide the dough in half and roll out each half into 8″ (20-cm) discs. Preheat the waffle pan on medium heat for 3 minutes. Spray both sides of the pan with oil, then cook one dough disc for 2–3 minutes. Flip and cook it for 2–3 more minutes or until golden brown. Repeat with the next piece of dough. Top your cooked dough with sauce, cheese, and your favorite pizza toppings and throw it under a broiler until it's melted.
Range of Bubble Rolled Waffles
At Roll Me Up our commitment to serving the best rolled ice cream and bubble waffles can only be achieved by using fresh ingredients and creating innovative menu items. We distinguish ourselves by creating unique flavours that stay true to the original bubble waffles while allow new, vibrant flavours to take the bubble waffles to the next level. These flavours and items include;
and many more you can check out our menu or by visiting Roll Me Up Ice Cream shop.
Visit Roll Me Up Ice Cream
Don't just take our word for it visit us to try the best rolled ice cream! We also serve delicious hand made milkshakes, bubble waffles filled with ice cream of your choice and cheesecake factory cheesecakes.