Creative Ways To Make Waffles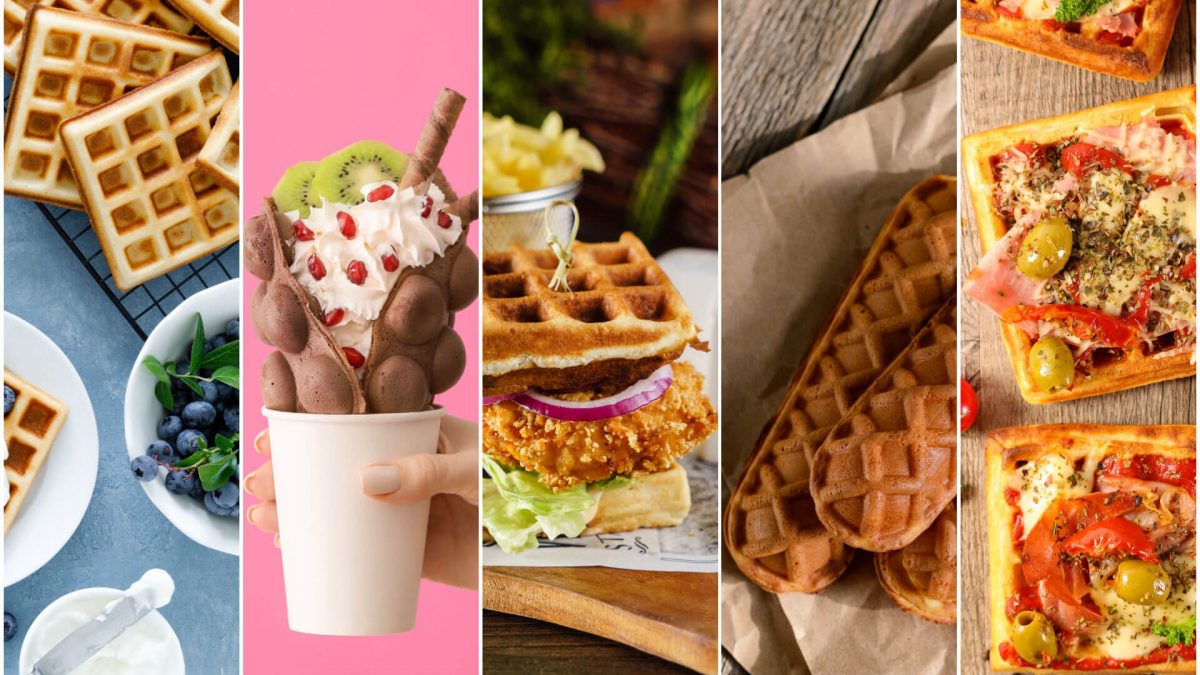 Though a breakfast staple, there's more than one way to eat waffles for a truly different experience. And while none of us would ever get bored of the traditional butter and syrup dripping waffle recipe, thinking out of the box is sure to make you fall in love with waffles all over again. A bit crunchy on the outside, soft and warm on the inside, have a look at how to top up your waffles other than whole lot of whipped cream and chocolate spread!
With Bacon, Cheese & Egg Florentine
Who said that waffles have to be sweet all the time? The bacon and cheese waffles are worth trying and preparing these is also easy. Start with the traditional waffle recipe but skip sugar and flavour extract for chopped fried bacon and shredded cheddar cheese.
Next, cook a small amount of baby spinach in a few drops of olive oil, pepper and salt on medium-high flame. Ready some poached eggs and take out one for serving. Neatly assemble the waffle, spread the spinach at the centre and top it with poached egg. As an option, you can conveniently enjoy with Hollandaise sauce.
Chocolate Peanut Butter Waffle Sandwich
Everyone's favourite and easy to prepare, chocolate peanut butter waffle sandwich is simply a waffle over another with the main flavour in between; hence the sandwich. In case your waffles turned cold, simply put them in the waffle maker again and reheat. Once warm and ready to serve, slice them into thin strips, dip in either maple or chocolate syrup to double up the fun. Likewise, you can have strawberry waffles the same way; just skip the chocolate peanut butter for strawberry spread!
Skewered Waffle
Whipped cream, fruit chunks and waffles are a match made in heaven but, when you're having guests, take a twist by serving the usual waffles with skewers to add more excitement to the meal. Simply cut the waffles in squares, triangle or any other small shape, throw on some whipped cream on each piece, put on a skewer and top with fruit chunks to make it delicious, scrumptious all the way through!
Pizza waffles
Pizza, waffle or both! Like different shapes and creative ways to eat waffles, you can conveniently cut them in four slices or, simply get the shape using those DIY waffle making machines. To give the waffle a real pizza feel, spread fresh tomato sauce, shredded mozzarella cheese and your favourite flavour topping. Reheat for a few minutes till the top layer achieves the desired crunchiness. Serve hot!
Brie Cheese & Blueberry Grilled Waffles
Other than the usual waffle recipe ingredients, making this one requires brie cheese, blueberry jam and butter. Top the waffles with brie cheese and scoopful of blueberry jam, add another waffle layer to give them a sandwich feel. Now, heat the butter on medium-high heated skillet and place the waffles to grill them. Flip once until the waffles turn sunlight and golden color and the cheese melts completely. Serve fresh and hot for irresistible waffle craving.
The traditional waffles when dunk in hot milk and chocolate syrup gives them a bubble-like texture. You can try it this way, prepare bubble waffle in a specialized waffle maker or simply visit Roll Me Up Ice Cream and Desserts in Toronto for the best bubble rolled waffles. Once the bubble-texture is achieved, carefully bend them from the center without breaking the crust, add your favourite ice-cream flavour in between and enjoy.
We're sure your already excited to try the above waffle recipes immediately. Take on a creative turn and enjoy some amazing new ways to eat your waffles.