Exploring The Diverse Flavors And Ingredients Of Thai Style Rolled Ice Cream.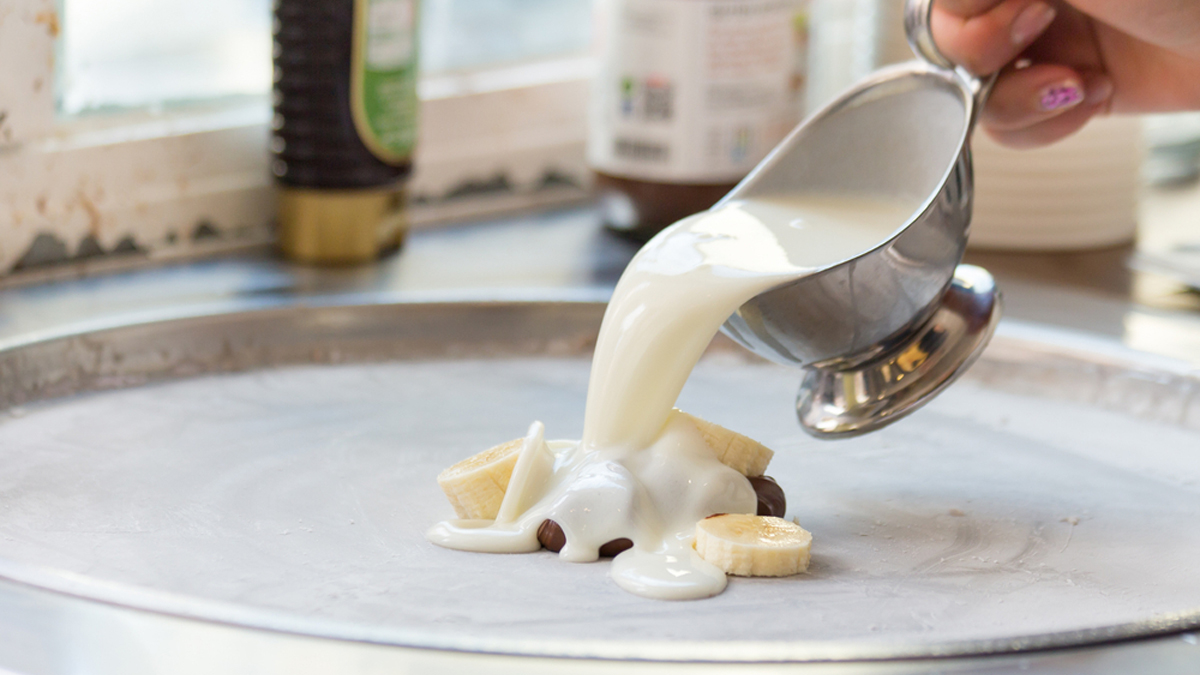 Introduction
Thai rolled ice cream is not as complicated to make as you might be wondering. It can be made from just 2 ingredients, isn't it great? But if you are not planning to make a rolled ice cream, you can always explore the diversified flavors and ingredients of rolled ice cream.
Have you tried Thai-style rolled ice cream yet? A famous delicacy that should be a must try for you! Not only that but rolled ice cream has also taken over social media by storm with live ice cream roll creation videos. 
A Little Something You Should Know About Thai Rolled Ice Cream
Guess what? Rolled ice cream includes the same ingredients as regular ice cream, but the serving and making process is unique and exciting as well. In addition, the name suggests that Thai rolled ice cream originally belonged to Thailand. But the popularity of Thai rolled ice cream makes it a famous street food globally. 
Now, if you also want to explore Thai-style rolled ice cream flavors and ingredients, this guide is for you. Here we will share the diverse tastes of rolled ice creams and the common ingredients that help you understand them better. 
So let's dive into it. 
What Is Thai-style Rolled Ice Cream?
Thai rolled ice cream is also famous as stir-fried ice cream in many regions. It is a globally renowned ice cream delight that brings diversity to the traditional ice cream world. 
However, the Thai style of rolled ice cream is unlike the frozen bucket from which you get the scoop in a cup and start eating. But the Thai style of ice cream has a liquid base consisting of milk, double cream, flavor, and sweetener. All the ingredients go in a frozen pan, then mixed and chopped using the two spatulas. After making the excellent ice cream base, it will be spread in a frozen pan and cut into sheets for making rolls, then served by placing it in cups and additional toppings. 
Thai rolled ice cream has a more rich flavor and dense texture. It is not made in a churning machine. However, mixing and chopping ingredients on a frozen pan will incorporate less air and make it thick. So it has the rich flavor of all ingredients and is irresistible to melting in hand like the traditional ice creams in cups or cone forms. 
Ingredients Of Thai-style Rolled Ice Cream.
Thai rolled ice cream comes in a wide variety of flavors. But few common ingredients work as the base of Thai rolled ice cream. 
The standard or essential ingredients of Thai rolled ice cream include condensed milk, double cream, sweetener or its alternative, and the flavor according to your choice. 
The condensed milk and cream will work amazingly in preparing the base of rolled ice cream. Remember that the Thai rolled ice cream base needs to be pliable and freezable for making the perfect rolls. However, these ingredients will help to get a rich flavor and creamy texture. If you are allergic to milk or looking for vegan options, coconut milk is also a good base ingredient for rolled ice cream. It has an excellent fat composition and gives the perfect texture to your rolls. 
Moreover, using the perfect quantities of base ingredients for rolled ice cream is essential to get the proper rolls. You can choose the flavor of your ice cream according to your choice, as there are plenty of options to incorporate in these base ingredients. 
Famous Flavors Of Thai-style Rolled Ice Cream.
There are plenty of options when it comes to the flavors of Thai-style rolled ice cream. Like mountain dew, you may also see weird flavors in rolled ice cream. However, there are many delicious flavors in Thai rolled ice cream that you can try. Explore the new options and enjoy the unique flavor every time. The primary reason behind Thai-style rolled ice cream is its diversity in flavors. 
The Famous Flavors
Thai-style rolled ice cream's most famous flavors include kit kat, Nutella, strawberry, oreo, banana, brownie, and many more. You can choose any flavor and additional toppings at the time of serving according to your choice and forget about traditional ice cream flavors. 
The Nutella rolled ice cream includes a bit of Nutella in the ice cream mix in the frozen pan. It gives the rich hazelnut treat in your ice cream and enhances the flavor. Moreover, you can improve its taste by topping additional Nutella and a bar of kit kat or your favorite chocolate. 
If you are craving cheesecake and ice cream simultaneously, then go for the cheesecake rolled ice cream. It includes a slice of cheesecake in an ice cream mix in the frozen pan, and a good blend will help to make the perfect rolls. You can get both flavors at a time and treat your cravings. Besides all these flavors, the oreo ice cream rolls are top of the list.
If you are exploring rolled ice cream, try to oreo rolled ice cream. It includes the oreo cooking into your ice cream base and topping with the whole oreo or its chunks to enhance the flavor. 
What Else Is There That You Can Explore While You Are At Roll Me Up Ice Cream & Desserts?
Well, one thing we can tell you for sure that while you are here, you will no longer have any issues in choosing the dessert that your heart wants. If you are not in a mood for rolled ice cream, there is a solution for that too. How about you try the bubble rolled waffles with ice cream or you can try a yummy, power packed milkshakes. And if not that, how about you get yourself a cheesecake slice, from The Cheesecake factory, exclusively available at Roll Me Up Ice cream & Desserts. A quick heads up, Roll Me Up Ice cream & Desserts' belgian waffles are to die for! Now you know what you should be trying the next time you visit there. 
Rounding Up
Now that you know a good amount of information on Thai rolled ice cream, have you made up your mind about it already? Well, the flavor options that are available will tempt you and will be your favorite as soon as you try them. But are you wondering where to find the super awesome rolled ice cream that has the potential to become your favorite? How about you try Roll Me Up Ice cream & Desserts, where you can see live rolled ice cream creations, and you can select toppings, as many as you choose. And if not, you can try making the rolled ice cream at home with just 2 ingredients, you can add toppings of your own choice and enjoy your ice cream in the cozy environment of your house.