Ferrero Rocher Rolled Ice Cream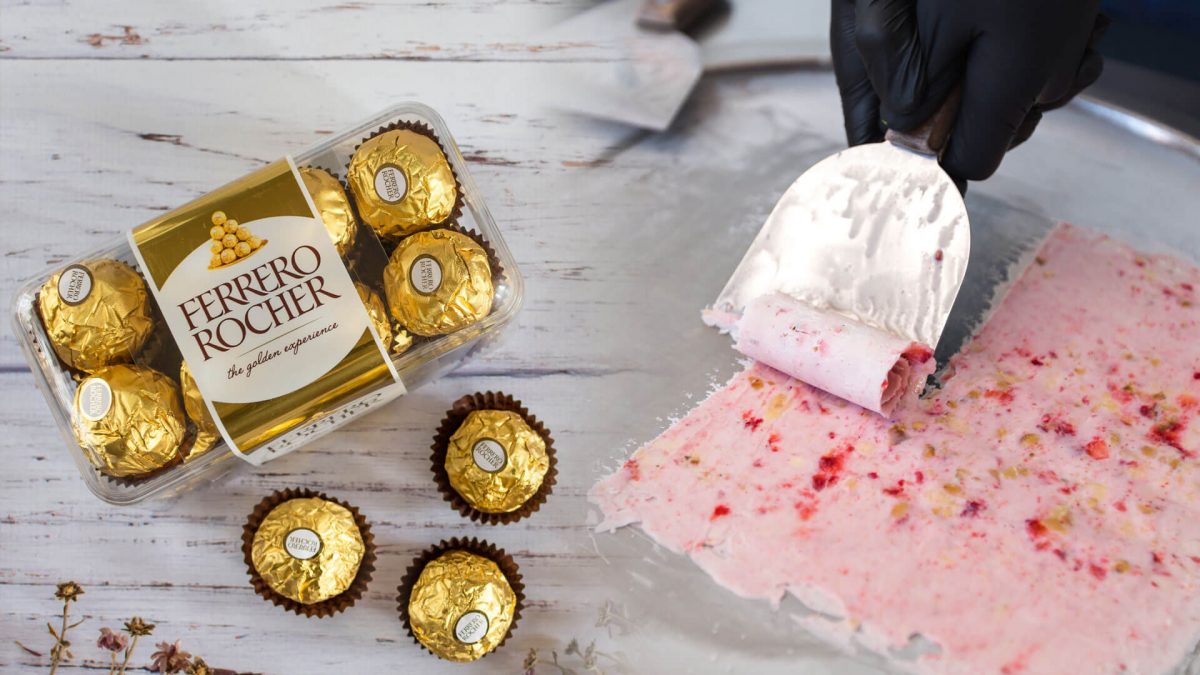 From typical mango and strawberry to tutti-fruity, pistachio and chocolate caramel, ice-cream comes in a whole lot of different flavours to delight everyone's sweet craving. Then there're premium flavours as well like cheesecake ice creams and best of all is Ferrero Rocher that has everything you'll eventually fall in love with.
True ice-cream fans say that once you try it, you'll always want it but, what makes Ferrero Rocher even more interesting is that the flavour's available in rolled ice-cream to get you more indulged in the rich, chocolaty and nut-filled goodness. Here's all you need to know about Ferrero Rocher ice-creams with amazing combo flavour recommendations from experts for an unforgettable frozen dessert journey.
Ferrero Rocher & Nutella Combo
For those who're new to the flavor or simply unaware, Ferrero Rocher rolled ice-cream stands above all other for its indulging and unique hazelnut flavors like the one you can even taste in the chocolate balls of the same.
Ferrero Rocher as a premium flavor emerged from Europe in 1982 from Ferrero; the notorious chocolatier from Italy. In its original form, these are chocolate-layered wafer shells covered with crushed hazelnuts.
When preparing rolled ice-creams of Ferrero Rocher flavor, the chocolate balls aren't a necessity but you can go along with the hazelnut spread on the ice-cream to enhance the flavor.
Best Place to Buy
Only the best ice cream and dessert shops like Roll Me Up in Toronto are known to commercially sell the Ferrero Rocher rolled ice-cream. You can conveniently grab the flavor at both of their Overlea Plaza and Markham branch. Though you can always churn your own Ferrero Rocher ice-cream in the churner at home but, nothing beats the fresh, authentic and silky-smooth texture of Roll Me Up Ice Cream and Dessert.
Main Ingredients
Ice-Creams have long been experimented with many different flavours and creative toppings that are a mix of dry-fruits, syrups and biscuits. Ferrero Rocher in particular has hazelnut as its main ingredient that can be swapped for Nutella for even more rich and premium taste. Spread hazelnuts as topping but, if you can complete the recipe with almonds or macadamia nuts as well. For extra crunch, toss some cookies into the mix and double the fun of Ferrero Rocher ice-cream flavour.
Calorie Facts
There's nothing wrong in taking a bit of calories for not all the good things come bland and flavorless. Still, if you don't want to miss trying the flavour while looking into the calorie fact, skip all the extra toppings and chocolate. Keep your cup simple and use lesser Nutella instead as a spread. You can also limit the serving size and enjoy the ice-cream early in the evening so there's plenty of time to digest and burn calories before going to bed.
Ferrero Rocher Ice-Cream Cake
For those who wish to take the Ferrero Rocher ice-cream fun to a whole new level, there're many creative ways to experiment. Take for instance ice-cream sandwich by placing a scoop full in between two biscuits or deep freeze the ice-cream, take in out in a plate and reshape the entire thing in a cake. Decorate heavily with chocolate and plain cake slices.
You're probably going nuts over Ferrero Rocher Rolled Ice Cream; visit Roll Me Up and get the real feel to make your summer even more exciting.