Most Popular Rolled Ice Cream Flavors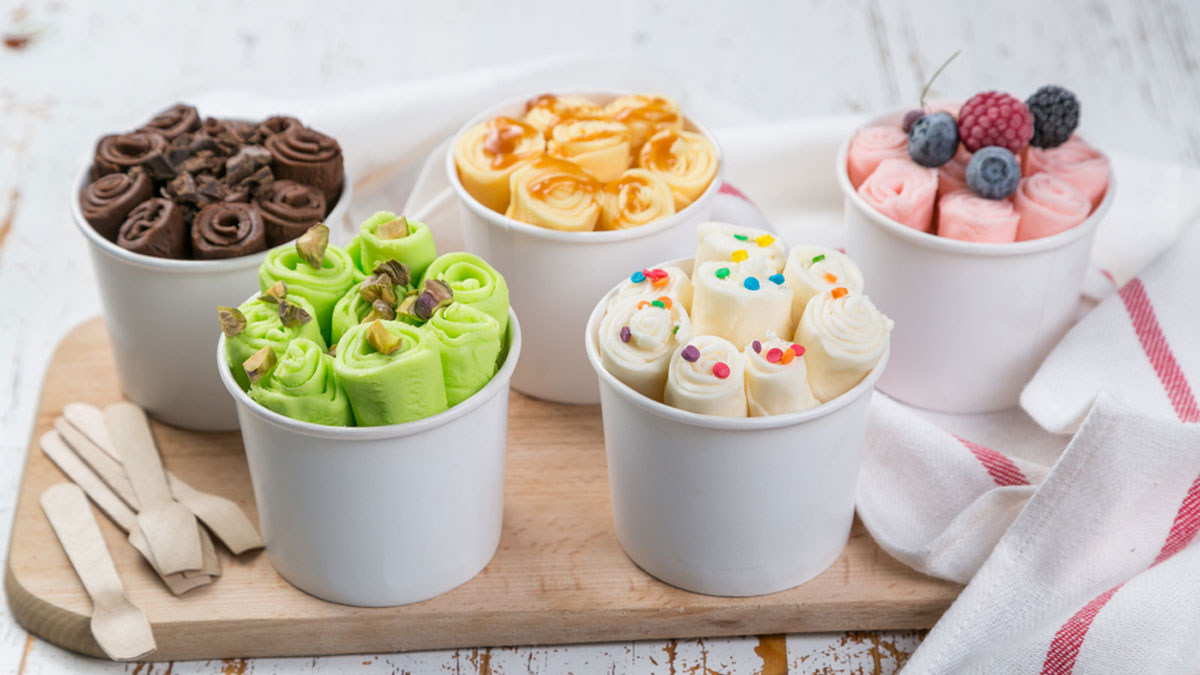 Ice cream is a forever favorite dessert, no matter what the occasion is, right? So winter or summer, ice cream is not going to give up in the favorite status so soon! And guess what, now there are plenty of innovations in ice creams, and rolled ice cream is one of the popular types. Do you know who makes the best rolled ice cream? Well, Roll Me Up Ice Cream and Desserts has got you covered for the most delicious flavors and the perfect exquisite rolled ice cream. 
Choosing the best flavors among the plethora of options can be troublesome, isn't it? But that is what we are here for. *Drum rolls, please* Roll Me Up Ice Cream and Desserts is ready to present the most popular rolled ice cream flavors that are always a hit! 
So let's dive into it. 
Best Rolled Ice Cream Flavors
Everyone has different taste preferences, but here we collect the most popular rolled ice cream flavors that nobody can resist. It is always fun trying different ice cream flavors, especially when it comes to roll ice cream flavors. 
The paan king is one of the popular rolled ice cream flavors you must try. Paan king rolled ice cream served along with vanilla ice cream base. It has a mild flavor base that fuses with vanilla to give a sweet and paan taste. The vanilla and paan masala taste together make the perfect combination and freshens up your soul.
Once you have the paan kind of rolled ice cream, you will love this combination for the rest of your life. 
Strawberry Banana Rolled Ice Cream
The strawberry banana is an all-time favorite combination of ice creams and milkshakes. Right? Now, if you are looking forward to getting the rolled ice cream, there is no better combination than the strawberry banana flavor. It is one of the best rolled ice cream flavors that attracts ice lovers on every occasion. 
Now, another popular rolled ice cream flavor is mint chocolate chip. You may hear the combination for the first time, but it is trending due to its unique flavor and taste. The mint chocolate chip roll ice cream has a delicious taste that nobody can ever resist. It contains mint and chocolate ice cream with toppings of chocolate chips. So the mint flavor comes on at the right point and enhances the after-feel mouth taste. 
Brownie
If you love having desserts after every meal, you are also a big fan of brownies. Right? Brownies are soft and creamy with a delightful taste so that nobody can resist them. However, here we count it as the popular rolled ice cream flavor. In brownie rolled ice cream, you will have brownie bites with ice cream. In addition, it comes with a topping of caramel and dark chocolate to give a perfect aftertaste or mouth feel. 
The salty-sweet caramel ice cream rolls represent its specifications with its name. You may have water in your mouth after listening to the unique flavor of ice cream with roll textures. However, the salty-sweet caramel ice cream rolls contain caramel as the base of ice cream and whipped cream and caramel sauce. So the unique combination gives the salty and sweet flavor at a time. You can get the fresh feeling of melting after every bite and enjoy the time with the deal aftertaste for a long time. 
Nobody dislikes a cup of strawberry cheesecake. Right? So if you are also a fan of strawberry cheesecake, then you need to have it in rolled ice cream flavor. It is the best-rolled ice cream flavor with toppings of strawberry sauce and whipped cream. The cream on top of the ice cream enhances its flavor. It gives a fulfilling sweet taste and serves with an attractive presentation. If you have cravings for ice cream, then strawberry cheesecake rolled ice cream will ideally fulfill it with every bite. 
Tortoise
It is a unique name for ice cream that you may hear. But it is one of the popular rolled ice cream flavors you need to try to satisfy your cravings. Tortoise contains whole pecans with dark chocolate shavings and swirls of caramel. Moreover, it also has sea salt with a minor amount that gives a salty taste to enhance the overall flavor of ice cream. Finally, it comes with toppings according to your desire, like chocolate chips, maple syrups, and many more.
The mixed flavor roll ice cream means you can get seven different flavors of ice cream according to your choice. It has a scoop of flavors, including mango, mango strawberry, Nutella, pina colada, chocolate peanut butter banana, peanut butter, strawberry banana, and jelly flavors. So you can get any flavor of ice cream in roll ice creams according to your taste with toppings of your choice.