Is Rolled Ice Cream Healthier Than Traditional Ice Cream?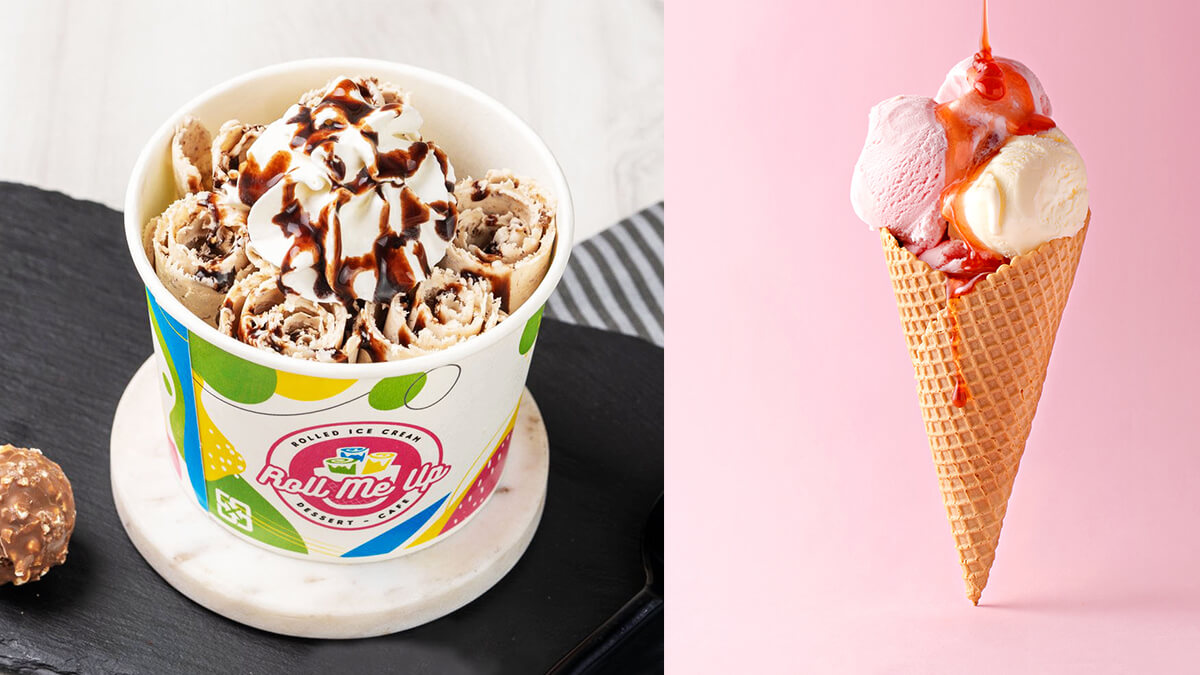 Everyone loves having ice cream. There is barely someone who does not like to munch on ice cream, but what about all the carbs and calories that come with it? Whether you are on a diet or want to stay fit, you must watch out for the calories, but does that mean you do not eat ice cream? Well, that is going to be tough. When all your family is enjoying a few scoops of ice cream right in front of you, and you try being hard on yourself and not having even a tiny bite of it will only make you feel bad. So, is there a solution to that? Well, everything is good in moderation. You can allow yourself you have a bit of ice cream but make sure you are not binge eating because that will ruin all the calorie deficit you have been trying to maintain. These days there are even healthier alternatives to ice cream as well. The vegan and low calories ice cream options have now been introduced that will let you enjoy a bit of ice cream even when you are on a diet, or you are just trying to avoid intaking a lot of calories in the form of dessert and especially ice creams.
A Healthier Option for Ice Cream
Do you know that there is another option also available? Well, there is always a better option available, especially if you are trying to stay fit and in shape. Wondering what can be the best option? If you do not want to compromise on flavor and you want to have the best dessert experience, then it is best to have Thai rolled ice cream. You must be wondering how Thai rolled ice cream is a better choice than regular ice cream.
Well, the reason why Thai rolled ice cream is a better option is that the rolled ice cream does not contain as many calories as any regular ice cream, and also it can be made with just two ingredients. The fact that rolled ice cream contains only two ingredients makes them a lot healthier option with minimum calories. The lesser the calories are, the healthier it is, and you can enjoy a little bit of the rolled ice cream even when trying to follow a strict calorie deficit diet.
Thai rolled ice cream is a treat from South east Asia that is now popular in most parts of the world. Rolled ice cream was introduced in Thailand, and soon it became the viral sensation that made it travel the world—wondering where you can find the rolled ice cream places near me? Well, not to worry because that is just a search away. If you are especially looking for the best rolled ice cream options, then it is best to head to the Roll Me Up Ice Cream & Desserts, which is located in Toronto and get the world famous rolled ice cream from there.
At Roll Me Up Ice Cream & Desserts, you can get a variety of different ice cream options, and you can watch the neat ice cream rolls made in front of you. This Thai rolled ice cream batter is put on a metal pan that is cooled at – 30 degree Celsius. You can add several flavors and toppings in the batter as well, which is then spread onto the pan and then it is scrapped off neatly in the form of rolls. But if you are looking for a healthier option, it is best that you do not add multiple toppings to the rolled ice cream to ensure the calorie count is not increased unnecessarily in the ice cream rolls.
Is Roll Me Up Ice Cream & Desserts Offering the Best Rolled Ice Cream in Markham in Toronto?
If you are in Markham in Toronto, and looking for the best ice cream rolls shops near me, there is a solution. Did you know Roll Me Up Ice Cream & Desserts is located in Toronto in Markham, where you can try rolled ice cream? The good thing is that Roll Me Up Ice Cream & Desserts has a lot of flavors available, including premium ice cream flavors as well.
What Else Can You Order at Roll Me Up Ice Cream & Desserts?
While you are at Roll Me Up Ice Cream & Desserts, you do not only have the option of trying out the Thai rolled ice cream, but you can also try out the many other options as well. Wondering what the other options that you can try at Roll Me Up Ice Cream & Desserts include milkshakes that are not just ordinary milkshakes consisting of some premium mixes.
But the milkshakes are not the only thing to try here; you can also try out the bubble rolled waffles paired with the best ice cream here at this ice cream shop. The variety of flavors is a plus point whenever you visit here. One thing that is a best seller, along with Thai rolled ice cream, is cheesecake. The cheesecakes here at Roll Me Up Ice Cream & Desserts have cheesecakes that are sourced directly from The Cheesecake Factory.
So, have you tried the best Thai rolled ice cream in Toronto that is exclusively available at Roll Me Up Ice Cream & Desserts? If not, now is the time for you to head there and munch on the highly famous and comparatively healthier ice cream option.