What are the Most Popular Waffles?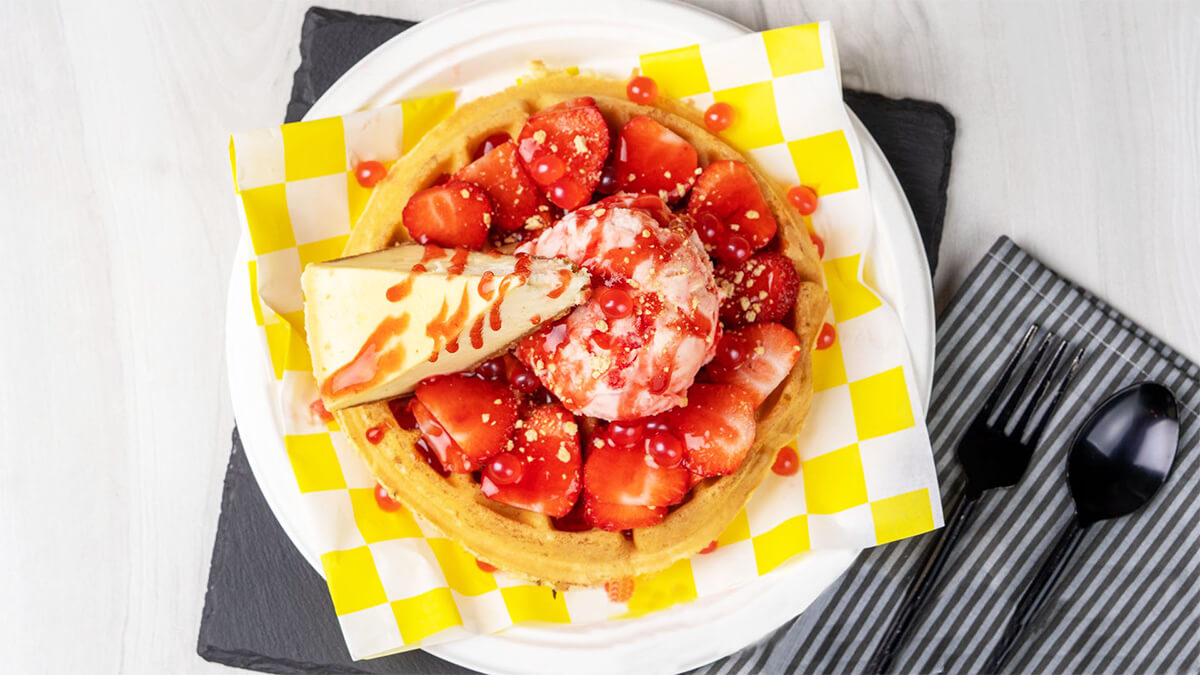 Waffles being famous all over the world, have a variety of different options. These are suitable for breakfast, lunch, and sometimes for an evening snack as well. Not only are they super convenient and easy to make, but also you can barely go wrong with the waffles. A simple batter is cooked between two metal plates, producing a nice and crispy golden-colored waffle with a beautiful pattern. You can drizzle maple syrup, or you can have it with whipped cream or even ice cream. Ice cream with waffles is a perfect combo. Is it not?
Do you know there are several waffle options available that you can explore whenever you are traveling around the world? You can get the best waffles combined with ice cream or whipped cream, along with some maple syrup, and you will love this combination.
Let's talk about some of the most popular waffles that you can try.
Brussels waffle
One of the popular types of waffles that you will come across in most of the dessert places near me is Brussels waffles. This one is a crispy waffle that tastes just perfect! Brussels waffles are rectangular in shape and fluffy from the inside. The deep pockets on the waffle are perfect for serving dessert, especially with cream with fruits and powdered sugar sprinkled on the top. Without any doubt, the Brussels waffles are the most liked ones that you will come across. This one is a must try!
Belgian waffles
If you think that Belgian waffles are from Belgium, then you are wrong because these are very much from America. The Belgian waffles are also very similar to the first type discussed above. However, the batter of Belgian waffles contains baking powder, whereas the Brussels waffles have yeast in the batter. The baking powder enhances the consistency and fluffiness of these waffles. These Belgian Waffles are circular and made on waffle iron. No doubt these are the best waffles that you can have for your breakfast. Not to forget that Belgian waffles are highly famous and liked by people widely. You can search for Belgian waffle near me, and you will get a lot of Belgian waffle Toronto spots that you can try. Finding the best Belgian waffles is not tricky; it is just a search away! Was it not so simple to find the best waffles?
American waffles
American waffles are similar to how Belgian waffles are made, but these are comparatively thin and less dense than any other waffles. The American Waffles are crispy, golden waffles that you can enjoy any time of the day with ice cream or other condiments. The reason why these waffles are liked widely is because of the crispy and crunchy texture of these American waffles.
Bubble rolled waffles
The bubble roll waffles are similar to the fluffy and dense waffle options, but the look of these waffles is comparatively different. The bubbles on these waffles are made in a specially made bubble waffle iron which gives it the structure and design of bubbles. These waffles are ideal if you want to have your favorite ice cream with them. The delicious combination is definitely worth a try!
The bubble-rolled waffles are sometimes also available in the name of Hong Kong waffles. These waffles with traditional pockets look exactly like eggs. The bubble rolled waffle is popular street food in Hong Kong and China as well. However, the topping can differ from place to place. Some dessert places near me top it with ice cream. Whereas some of the other places, add peanut butter or any other savory topping over it.
Savory waffles
Did you think waffles are only available in the desert options combined with ice cream or whipped cream? Well, it is not true. Savory waffles are like American style waffles, which are thin and less dense, but the flavor is different. These cornbread waffles can easily be topped with any savory topping, including chicken or any other flavor. Pizza sauce and pasta sauce can also be used to top the savory waffles, and vegetables and pepperoni can also be added to these waffles, which are savory in flavor.
Toaster waffles
Another type of waffles is toaster waffles which are the easiest to have. To help people with busy routines and even for daily use, the waffles are packaged in a frozen form, and this can easily be tossed into the toaster, where you will get fresh and fluffy waffles within a few seconds. Just take these waffles straight from the freezer and put them into the toaster, and you will have a perfectly delicious breakfast with waffles and any other topping in just a few minutes.
Waffle cones
A waffle cone is another lovely option paired with different flavors of ice cream. It is a larger, crispier waffle that is made in a special kind of waffle press. For this type of waffle, one uses white sugar to make it crunchy. When paired with ice cream, it is the perfect option to be used with the ice cream. These cones are usually larger, and with the ice cream, they can be topped up with fruits, nuts, and syrups. Waffle cones are widely famous and readily available in all popular dessert shops. If you are craving a waffle cone, you can easily find them in the dessert places near you.
If you are looking for some of the best dessert options, including the best waffle options, then it is best to check, Roll Me Up Ice Cream & Dessert for the most scrumptious combination of desserts and flavorful options.