What Components Make Up Ice Cream Rolls?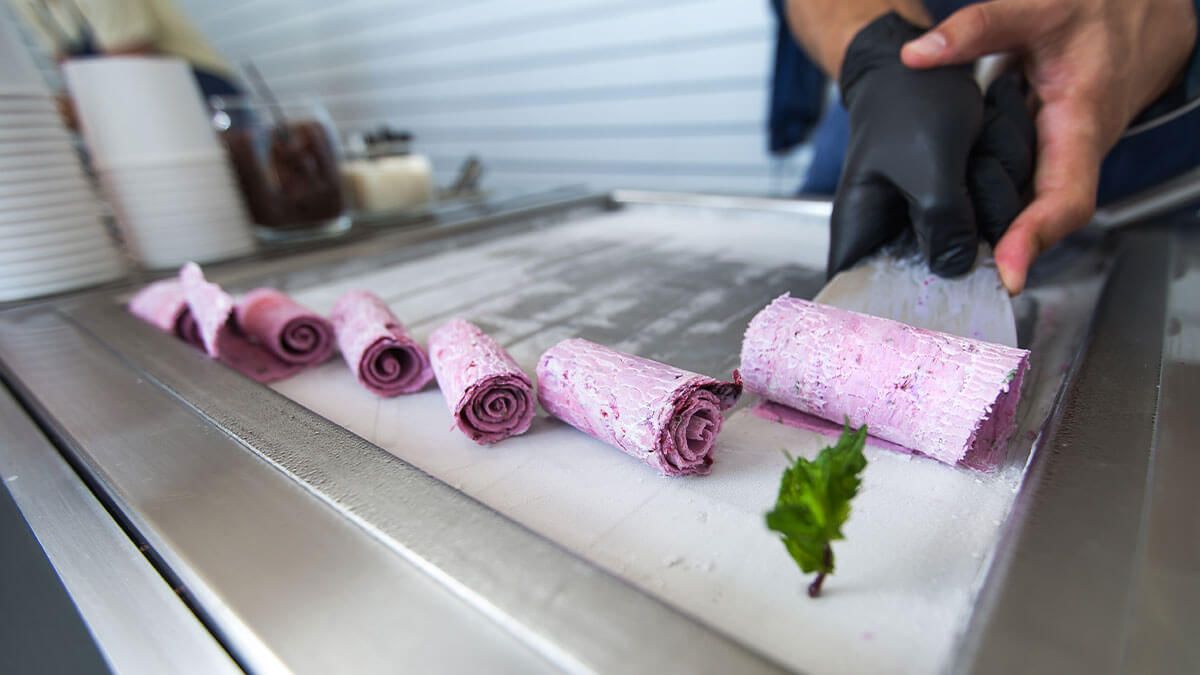 Are you a fan of rolled ice cream? Do you ever wonder what it is made of? Rolled Icecream, commonly known as Thai rolled ice cream, is famous for the uniquely rolled ice cream rolls infused with popular flavors. But what are these rolled ice cream rolls made of? If you are keen to know more, dive into the article below and find out all about rolled ice creams and what ingredients are used in making them.
When going to the ice cream places near me, one might be fascinated to see the live process of making rolled ice cream. But you can not make rolls of just any liquid. So, what is it that makes the ice cream into firm rolls that do not only look amazing but also are super delicious as well?
Origin
Wondering where the rolled ice cream or the stir fry ice cream came from? Well, the origin of this rolled ice cream is from South East Asia for inventing a sensational frozen dessert that brings joy to each and every one. With time, this frozen dessert has made its way to the UK, USA, and Canada, as well as pioneering the innovative yet super delicious flavors around the globe.
What is it made of?
This unbelievably yummy dessert is a simple mixture of milk, sugar, and cream. But, did you think it was that simple? No, right? Well, now you know! Also, you can add just about any flavor you love to this mixture to make it as per your liking and taste. The thing about flavors is that there are endless possibilities; you can be chocolate-flavored ice cream or a pan-flavored one; the opportunities are endless and an absolute dream!
Also, the process is simple but requires a steady hand. When making rolled ice cream, all you need to do is to spread the liquid ice cream mixture onto the metal pan. The Pan will flash freeze the mixture. So, the trick is to evenly spread the mixture and add flavors and condiments of your liking. Once the mix is frozen, use a scrapper, and roll this ice cream into ice cream rolls. Place these ice cream rolls in a cup, and voila! This is a treat for ice cream fans out there!
When the ice cream mixture is spread out on the metal pan, the temperature is as low as -30 degrees (Consider it ridiculously cold) as to freeze the ice cream on the Pan. Fresh fruits, biscuits, or even meringues are added to add a kick of flavor. Then flatten with a spatula or can and then roll the ice cream. These ice cream places near me also offer traditional flavors, including Pan flavored ice cream or if you belong to Southeast Asia, you will enjoy munching on the Gulab Jaman rolled ice cream. Multiple scrumptious flavor combos and several toppings make anyone fall in love with these super delish ice cream rolls.
Wrap up
Now you know there is no rocket science in making the Rolled ice cream. All you need is get milk, sugar, and cream. Combine them and put them in the cold metal pan. Add fruits or condiments of your choice for flavoring and spread it all out evenly. Once done, make rolls of the ice cream flash frozen on the Pan. Vertically place these rolls in a cup, and voila! Wasn't that super simple? But the question is, can you make it at home? Well, ice cream can be made at home, but rolled ice cream might not be possible since the special metal pan plays a very important role in making these rolls, and acquiring it and setting it on -30 degrees can be difficult. So, rather than putting all the effort into ice cream Pickering and making, visit Roll me up Ice Cream, where you can get rolled ice cream and see how it is made. Wouldn't it be super fun?