Roll Me Up Ice Cream & Desserts Launched Their Newest Location in Pickering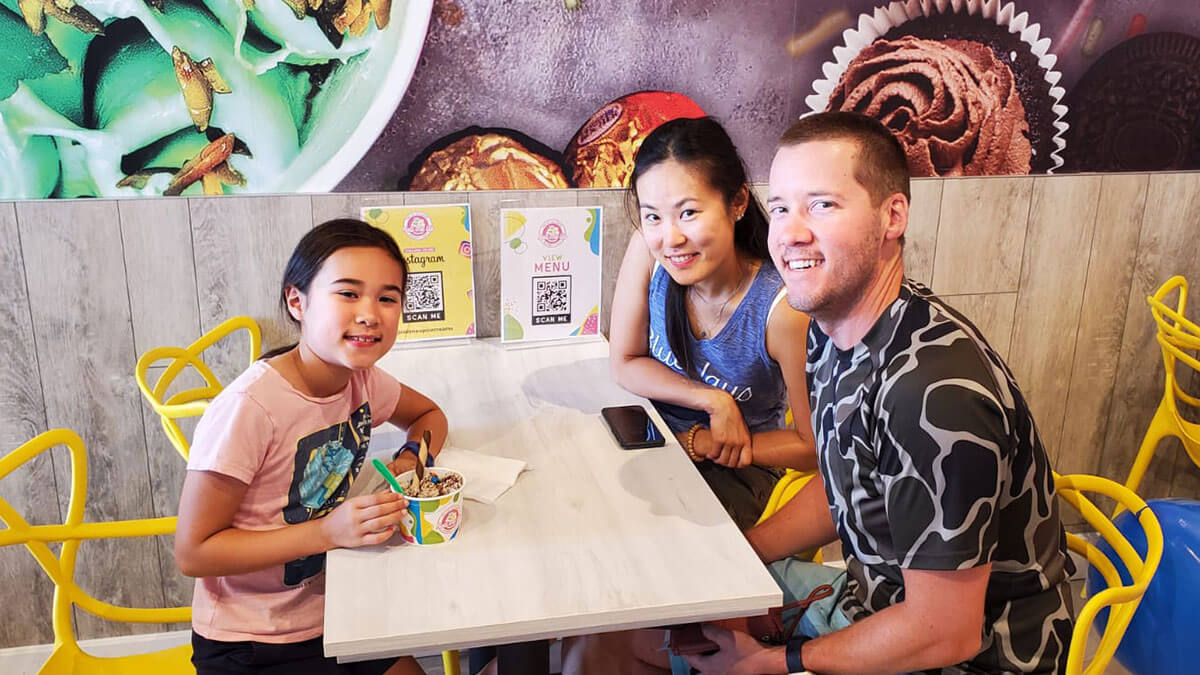 Roll Me Up Ice Cream & Desserts is now serving happiness in Pickering with its newest location launch. A grand opening that happened on 13th August 2022 in Pickering attracted large crowds, and we were pleased to serve ice cream paired with delight to our lovely customers. Roll Me Up Ice Cream & Desserts is known for its rolled ice cream, and now you can enjoy the world-famous rolled ice cream in Seaton Centre, Brock Road, Pickering.
Wondering what happened at the grand launch of Roll Me Up Ice Cream & Desserts's Pickering location? Well, if you had visited, we are sure to not have disappointed you. But none that less, let's give you the TEA!
Our launch event was a massive success, with people enjoying rolled ice cream, our very special bubble rolled waffles, milkshakes, and much more. On the opening day, we also offered a great discount to our very first customers. Not only the discount made our customers extremely happy, but we are thrilled to see how much our customers liked the rolled ice cream, and in just the first few days, we have seen an overwhelming amount of traction in Pickering. Now you know where to find the best rolled ice cream in Pickering from, right?
One major highlight of our grand launch was the presence of one of the finance ministers of Ontario, Peter Bethlenfalvy, and it is safe to say he really enjoyed our ice cream and expressed his positive feedback on his official Instagram account. We were surely more than delighted to have him in our newest branch.
View this post on Instagram
A few of the other customers and influencers also shared their joy and satisfaction with the ice cream and other condiments at our newest location in Pickering. Check what they have to say about Roll Me Up Ice Cream & Desserts on their Instagram.
View this post on Instagram
Happy customers are equal to happy us! We have been putting in all the efforts to serve the best ice cream in Pickering to our best of the best customers. The feedback and the response from our customers make all our efforts a lot more meaningful.
What should you try at our Pickering location? 
You must also be wondering about the range of ice creams and desserts we are offering. Don't worry because we have got you!
Our range of dessert options includes the very famous rolled ice creams – Beautifully rolled ice cream topped with toppings of your choice, including fresh fruits, chocolate and strawberry syrups, sprinkles, and much more. If you are not super interested in having rolled ice creams, then we also have soft swirls and scoops that you can have and enjoy in a cup or cone. Our bubble rolled waffles with the perfectly delicious ice cream are hugely famous for the unique look and scrumptious taste of your favorite flavor of ice cream.
We have a range of milkshakes also available that you can try at our Pickering outlet. You will find a lot more than just the basic flavors on our milkshake menu. One of our most selling products after Thai rolled ice cream is the milkshakes.
If you are not an ice cream fan, we have something for you too. The range of desserts from The Cheesecake Factory Bakery is exclusively available at Roll Me Up Ice Cream & Desserts. Your tastebuds will have a divulging experience with rich and creamy cheesecakes and cupcakes, perfect for satisfying your sweet tooth.
It is safe to say that Roll Me Up is the one-stop shop for your ice cream cravings. We are now open and happy to serve you.
Where to find us? 
Wondering where this Rolled ice cream Pickering is located? Well, you can easily find Roll Me Up Ice Cream & Desserts – Pickering at 2460 Brock Rd Unit C13, Pickering. Feel free to drop by. We are now completely functional all 7 days of the week from 1 PM to 11 PM. Timings might vary on Friday, Sunday, and other public holidays. We are ready to share happiness and bring an ear-to-ear smile with our Best Rolled ice cream. If you have not tried it yet, you are missing out!